Jessie Mei Li è la protagonista di Shadow and Bone, la nuova serie fantasy di Netflix. Tratta dai bestseller del GrishaVerse scritti da Leigh Bardugo, Shadow and Bone (Tenebre e Ossa) è ambientata in un mondo sconvolto dalla guerra in cui la soldatessa e orfana Alina Starkov scopre un potere straordinario che potrebbe salvare il suo paese. Al fianco di Jessie Mei Li, troviamo l'attore Archie Renaux, che interpreta Malyen Oretsev. Nel cast spicca anche l'interpretazione di Ben Barnes che in Shadow and Bone interpreta il carismatico Generale Kirigan.
Jessie Mei Li, in un'intervista, ha parlato del suo rapporto con Ben Barnes e di come insieme hanno costruito il legame tra Alina e Darkling, raccontando: «Oh, è stato così bello. Ben è così laborioso, è così premuroso e vuole davvero che le cose funzionino. Ottenere quel rapporto giusto è stato importante per entrambi, perché sebbene sia problematico ed è tossico, all'inizio non lo sappiamo e dobbiamo essere investiti in questo. Penso che il fatto che sia complicato sia ciò che lo rende così interessante. Ci siamo conosciuti molto bene. Penso di aver passato la maggior parte del tempo con Ben rispetto a chiunque altro nel cast. All'inizio ci siamo allenati a cavallo insieme e abbiamo avuto anche la maggior parte delle nostre scene insieme all'inizio. Ci hanno dato dei compiti e abbiamo dovuto guardare l'adattamento di Jane Eyre del 2011 con Michael Fassbender.»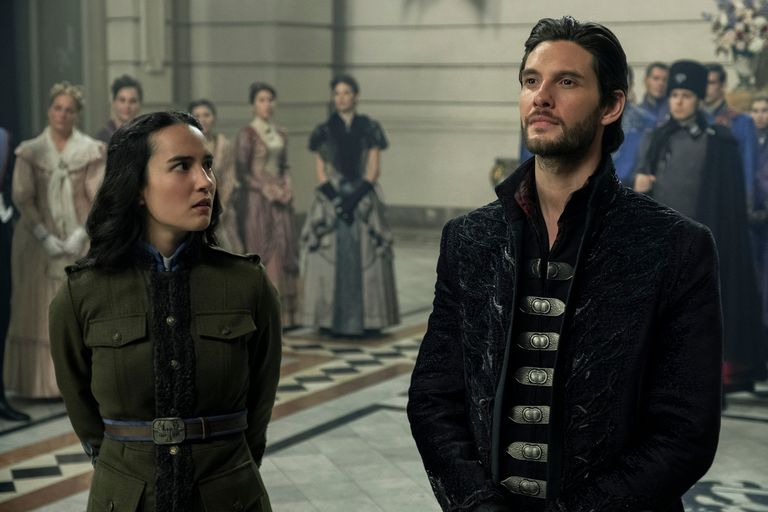 Riguardo al legame tra Alina e Darking in Shadow and Bone ed al lavoro fatto, dopo aver visto insieme a Ben l'adattamento di Jane Eyre del 2011, l'attrice ha, poi, raccontato: «Sì. Quella era una dinamica menzionata dal nostro regista, quindi l'abbiamo guardata. E questo è stato davvero utile. Quindi, è stato fantastico lavorare con Ben. La mia preoccupazione, quasi, era che sarebbe stato una di quelle persone che dà sempre consigli non richiesti, perché è più vecchio di me e ha più esperienza, ma semmai era quasi l'opposto. Ha sempre voluto sentire la mia opinione. Abbiamo discusso di tutto insieme. Ed è stata davvero una collaborazione tra me e Ben, gli scrittori e i registi».