Chiffon Magazine meets Pauline Rénevier, who plays Nene in Sissi. The series follows the extraordinary life of Empress Elisabeth of Austria and reveals many other different and strong women in the story. Pauline is a young artist with a brilliant future to live. She shapes her characters and makes them close to all of us. Her art is a stunning mirror.
How would you describe your character Nene?
Nene is the older sister of Sisi and stories say that she was meant to marry Franz Joseph I., the emperor of Austria. She is more conservative than Sisi but shares her ambitious character. The sisters have quite opposite visions of the future. While Sisi does not really care about fitting in, Nene wants to meet the expectations of her mother and wants to marry well. She puts a lot of pressure on herself while trying to be perfect, neat and mannered. She loves her sister a lot, but struggles with forgiving her when the emperor chooses Sisi to be his wife.
How did you prepare for this role? Which books did you read and which movies did you see?
I watched the first Sissi Movie with Romy Schneider and read about Nenes biography. But that wasn't really enough to prepare, because we tell a more ambivalent story about Sisi and the people in her life. Nene actually lived so I thought a lot about how to understand her personality better beside all the facts and dates of her life. So I did something I haven't done before. I asked a close friend of mine who knows a lot about astrology to help me with Nenes birth chart. And it was actually so interesting and mind blowing to hear all the things about her fears and dreams and personality traits that I didn't know before. It might not all be completely true, but it absolutely fit the story so I wrote everything down and got to like Nene very much. She was so afraid of being a disappointment to her mother, she was scared of the public opinion, she thought that only success will make her lovable and she suffered under her little sister always being the center of attention. That is what makes her human and what gave me the information I needed to explain to myself why she is so mean to her sister after her engagement. But for Nene, Sisi ruined the life she dreamt of. She publicly embarrassed her and took the one thing away that she really wanted and was raised to be: the empress of Austria. So after learning that about her I had a lot of empathy for her and got why she behaved the way she does.
What's your favorite thing about Nene? What did you learn from her?
My favorite thing about her is her will power and her elegance. She always tries to be perfect and to be loved by everyone and I can empathize with that. I learned from her that your worth does not depend on other people's opinion and that you have to forgive and move on. It's said that Nene got really depressed after her sister became the empress of Austria and she actually married very late for that time. But at some point she forgave her sister and found love and had a good marriage until her husband unfortunately died. But I think she might have even found more happiness than Sisi ever did. Nene would have been a very great empress, I am sure about that. But maybe it wasn't meant to be. So accepting that and moving on is something I learnt from her, because she really struggled with that at first. And also I learnt that it is so exhausting to please everyone. When we had the huge ball scene I was so focused on dancing perfectly and always having a perfect posture and manners, because that's what she was like. But in the end it is not your responsibility what people think about you, so you better focus on what you want for yourself than what others might expect you to be.
The period costumes are just spectacular! What did it feel like to wear those elegant period clothes?
It was incredible to wear those costumes and to be part of the progress of having tailor-made dresses. I am so impressed by our costume designer and true artist Metin Misdik and his whole team. They had very little time and designed and made those stunning dresses. And then being the one who is allowed to wear them was a dream come true. Historical costumes are often impressive, but I think Metins costumes are just another level of sophistication. They merged the style of the 19th century with modern influences and created incredible pieces. I have to say that it often was physically challenging to wear them, but they always made sure that we were feeling okay. But I have a lot of respect for Dominique, because she wore the dresses every day. And they just need to be very tight and they were heavy, because of all the layers and it takes about 20 minutes to get dressed. So it was also challenging, but absolutely worth it. I am very thankful for this experience and I can't wait for season two.
How important is it to show in a series the strength and independence of Sissi?
Firstly, I think it's important to not only romanticizing Sisi and her life. Because she had a really tough one. Women with strong opinions, personalities and will power werent wanted at the Court at that time. Her strength and will power were unusual and I think it is important to portray the obstacles she had to overcome and also what it cost her. Secondly, I think Sisi is a great role model for girls, because it's so important to learn that you matter. That being a woman is a superpower and just because you are being told you can't do something it doesn't have to be true. And also Sisi had flaws. Ist is not about being flawless or uncomplicated, but to fight for the life you want to have and the person you want to be. Sisi also struggled with her obsession of beauty and eating disorders as many women do today. So it's not about glorifying her, but to show her fighting in the patriarchal system she lived in.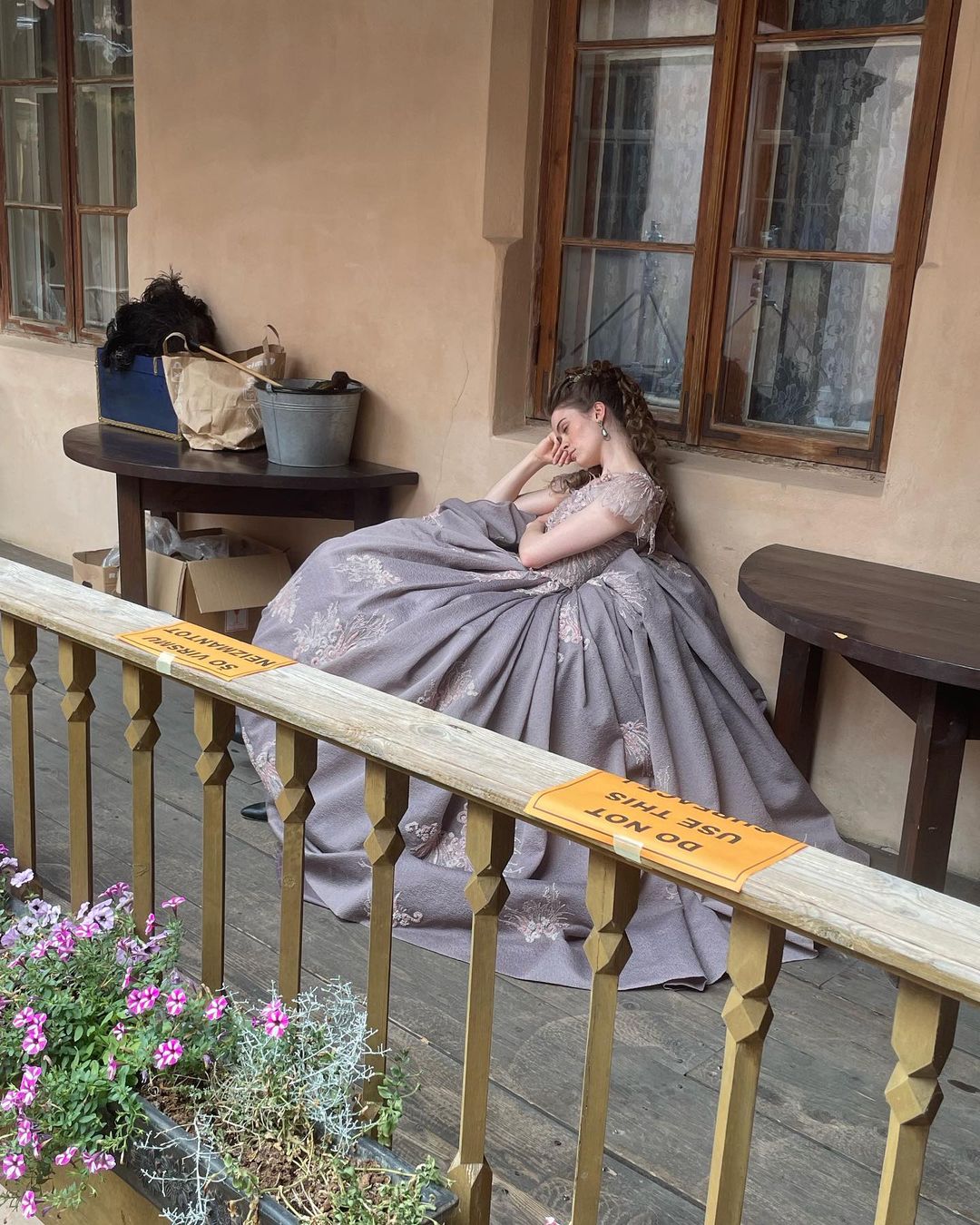 There are so many female characters in this series. What do you love about these modern women?
I love the female characters of SISI. I think they are all very interesting and complex and they impersonate every facette of Feminism. Sisi is this free spirited, courageous young woman who fights for her freedom and independance in a world that wants her to be quiet and to blend in. Nene's priority is a good marriage and reputation. She chose that for her and fights for it. Of course the 1850s werent a great time for womens freedom of choice. But when you have a choice like you do in our countries today, it's also a feminist action to choose staying at home and having kids for example. Because it's all about having the freedom of choice and strive for happiness. Of course archduchess Sophie is all about power and strength and has the biggest influence on the emperor. Ludovika, Sisis and Nenes Mother, is fighting for her daughters to have a better life than she did. Fanny, the closest friend of Sisi, teaches Sisi about sexual freedom and the importance of female pleasure. Also they form a close friendship and support eachother. And Countess Esterhazy seems to be old-fashioned – but she fights for traditions and knows exactly whats going on politically. So I think they are all very strong and unique.
As a young woman in 2021, how do you approach your profession?
That is a very interesting question. Even though I started starring in small movies when I was really young, it took me a very long time to see myself as an actress. I think it was in my second year of studying drama, where I started thinking that this will be my profession. I guess, I have always wanted to do that, but I was scared. I get emotional with all the ups and downs. I hate, when a project is over and you leave the people you got so close with behind. I am scared that one day people will find out that I have no idea what I am doing most of the time. And also being a woman in this business is very hard sometimes. I had some bad experiences, but I learnt a lot and I am much stronger now when it comes to setting my boundaries. So it is a fight to be taken seriously sometimes, but there is something so addicting and fascinating about this profession that I don't want to do anything else as long as that is possible. I wanted to study it, because I wanted to be educated and also be able to be on stage. I finished my studies now and I will work at a theatre for the next two years. So I will do anything to learn what actually makes me happy and then continue focusing on that. My profession is very important to me, but it is not everything in life. So I don't know what is there to come, but for now I want to work really hard for want I love to do and that's acting. With all the good and the challenging things.
What is your dream role to play?
Honestly, what I love most is to portray so many different characters. While preparing for Nene, I shot a pilot for a series where I play a prostitute called Mandy, so that was fun. I had very long fake nails on, wore high heels and I thought to myself: How cool is that? I am Mandy now, but I will be a duchess in two months. So I just love to get the opportunity to play all kinds of characters. But of course, my dream is to have an exciting leading role at some point in the future. But whenever I get to work with people that inspire me and with screenplays that are touching and relevant, I am already living my dream.
Who are your biggest influences?
My family and friends and the passion of the people I work with.
If you were to sum up the word "Art" in one image, what would it be?
A mirror.
Chiffon Magazine incontra Pauline Rénevier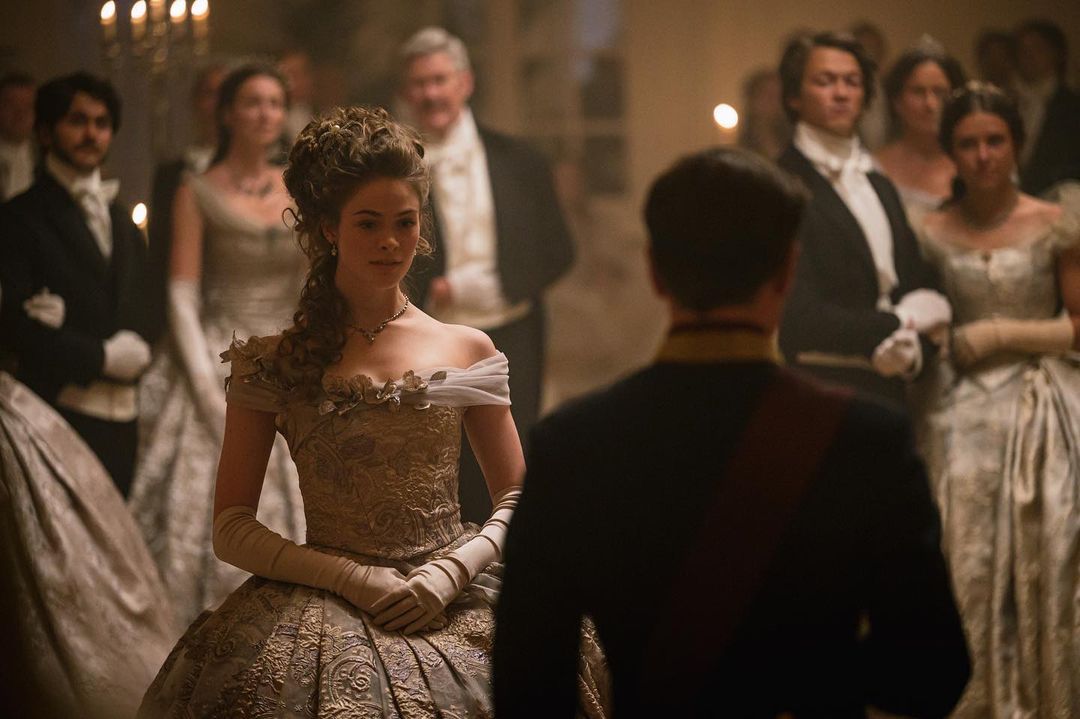 Come descriveresti Nene, il tuo personaggio?
Nene è la sorella maggiore di Sissi e le storie dicono che doveva sposare Francesco Giuseppe I., l'imperatore d'Austria. È più conservatrice di Sissi ma condivide il suo carattere ambizioso. Le due sorelle hanno visioni del futuro del tutto opposte. Mentre a Sissi non interessa davvero adattarsi, Nene vuole soddisfare le aspettative di sua madre e vuole sposarsi nel migliore dei modi. Mette molta pressione su se stessa mentre cerca di essere perfetta, ordinata e educata. Ama molto sua sorella, ma fatica a perdonarla quando l'imperatore sceglie Sissi come sua moglie.
Come ti sei preparata per questo ruolo? Quali libri hai letto e quali film hai visto?
Ho visto il primo film di Sissi con Romy Schneider e ho letto la biografia di Nene. Ma non è stato davvero abbastanza per prepararci, perché raccontiamo una storia più ambivalente su Sissi e le persone della sua vita. Nene è realmente vissuta, quindi, ho pensato molto a come capire meglio la sua personalità oltre a tutti i fatti e le date della sua vita. Quindi, ho fatto qualcosa che non avevo mai fatto prima. Ho chiesto a un mio caro amico che sa molto di astrologia di aiutarmi con il tema natale di Nene. Ed è stato davvero così interessante e strabiliante ascoltare tutte le cose sulle sue paure, sui suoi sogni e sui tratti della sua personalità che non conoscevo prima. Potrebbe non essere tutto completamente vero, ma si adattava perfettamente alla storia, quindi ho scritto tutto e ho avuto modo di apprezzare molto Nene. Aveva tanta paura di essere una delusione per sua madre, aveva paura dell'opinione pubblica, pensava che solo il successo l'avrebbe resa amabile e soffriva che la sua sorellina fosse sempre al centro dell'attenzione. Questo è ciò che la rende umana e ciò che mi ha dato le informazioni di cui avevo bisogno per spiegarmi perché sia stata così cattiva con sua sorella dopo il suo fidanzamento. Ma per Nene, Sissi ha rovinato la vita che sognava. L'ha messa pubblicamente in imbarazzo e ha portato via l'unica cosa che voleva veramente e per cui era stata cresciuta: essere l'imperatrice d'Austria. Quindi, dopo aver appreso questo di lei, ho provato molta empatia per lei e ho capito perché si comportava in quel modo.
Cosa ami di Nene? Cosa hai imparato da lei?
La cosa che preferisco di lei è la sua forza di volontà e la sua eleganza. Cerca sempre di essere perfetta e di essere amata da tutti e io posso entrare in empatia con questo lato di Nene. Ho imparato da lei che il tuo valore non dipende dall'opinione degli altri e che devi perdonare e andare avanti. Si dice che Nene sia diventata davvero depressa dopo che sua sorella è diventata l'imperatrice d'Austria e in realtà si è sposata molto tardi per quel tempo. Ma ad un certo punto, ha perdonato sua sorella e ha trovato l'amore e ha avuto un buon matrimonio fino alla morte del marito. Ma penso che potrebbe anche aver trovato più felicità di quanta ne abbia mai trovata Sissi. Nene sarebbe stata una grandissima imperatrice, ne sono sicura. Ma forse, non doveva essere così. Quindi, accettarlo e andare avanti è qualcosa che ho imparato da lei, perché all'inizio ha davvero lottato con tutto questo. E ho anche imparato che è così faticoso accontentare tutti. Quando abbiamo avuto l'enorme scena del ballo ero così concentrata sul ballare perfettamente e avere sempre una postura e delle maniere perfette, perché lei era così. Ma alla fine, non è tua responsabilità ciò che la gente pensa di te, quindi è meglio che ti concentri su ciò che vuoi per te stessa piuttosto che su ciò che gli altri potrebbero aspettarsi che tu sia.
I costumi della serie sono semplicemente spettacolari! Cosa hai provato nell'indossare questi eleganti abiti d'epoca?
È stato incredibile indossare quei costumi ed essere parte del progresso nell'avere abiti su misura. Sono così impressionata dal nostro costumista e vero artista Metin Misdik e da tutta la sua squadra. Hanno avuto pochissimo tempo e hanno disegnato e realizzato quegli splendidi abiti. E poi essere la persona a cui è permesso indossarli è stato un sogno diventato realtà. I costumi storici sono spesso impressionanti, ma penso che i costumi di Metins siano solo un altro livello di raffinatezza. Hanno unito lo stile del 19° secolo con delle influenze moderne e hanno creato pezzi incredibili. Devo dire che spesso è stato fisicamente impegnativo indossarli, ma si sono sempre assicurati che stessimo bene. Ho molto rispetto per Dominique, perché indossava gli abiti tutti i giorni. E sono abiti molto stretti ed erano pesanti, a causa di tutti gli strati, ci vogliono circa 20 minuti per vestirsi. Quindi, è stato anche impegnativo, ma ne è valsa assolutamente la pena. Sono molto grata per questa esperienza e non vedo l'ora che arrivi la seconda stagione.
Quanto è importante mostrare in una serie la forza e l'indipendenza di Sissi?
In primo luogo, penso che sia importante non solo romanticizzare Sissi e la sua vita. Perché ha avuto una vita davvero dura. Le donne con forti opinioni, personalità e forza di volontà non erano volute alla Corte in quel momento. Il suo potere e la sua forza di volontà erano insoliti e penso che sia importante ritrarre gli ostacoli che ha dovuto superare e anche quanto le è costato tutto. In secondo luogo, penso che Sissi sia un ottimo modello per le ragazze, perché è così importante imparare che sei importante. Essere una donna è un superpotere e solo perché ti viene detto che non puoi fare qualcosa non deve essere vero. E anche Sissi aveva dei difetti. Non si tratta di essere impeccabili o semplici, ma di lottare per la vita che vuoi avere e per la persona che vuoi essere. Sissi ha anche lottato con la sua ossessione per la bellezza e i disturbi alimentari come fanno molte donne, oggi. Quindi non si tratta di glorificarla, ma di mostrare la sua lotta nel sistema patriarcale in cui viveva.
Ci sono così tanti personaggi femminili in questa serie. Cosa ami di queste donne moderne?
Amo i personaggi femminili della serie. Penso che siano tutti molto interessanti e complessi e impersonino ogni sfaccettatura del femminismo. Sissi è questa giovane donna coraggiosa e dallo spirito libero che lotta per la sua libertà e indipendenza in un mondo che vuole che sia tranquilla e che si mescoli. La priorità di Nene è un buon matrimonio e una buona reputazione. Lo ha scelto per lei e combatte per questo. Ovviamente gli anni 1850 non furono un grande momento per la libertà di scelta delle donne. Ma quando hai una scelta come fai oggi nei nostri paesi, diventa un'azione femminista scegliere di stare a casa e avere dei figli, ad esempio. Perché si tratta di avere la libertà di scelta e di lottare per la felicità. Ovviamente l'arciduchessa Sophie è tutta una questione di potere e forza e ha la più grande influenza sull'imperatore. Ludovika, la madre di Sissi e Nene, sta lottando affinché le sue figlie abbiano una vita migliore della sua. Fanny, l'amica più intima di Sissi, insegna a Sissi la libertà sessuale e l'importanza del piacere femminile. Inoltre creano una stretta amicizia e si sostengono a vicenda. E la contessa Esterhazy sembra essere all'antica ma combatte per le tradizioni e sa esattamente cosa sta succedendo politicamente. Quindi penso che siano tutte molto forti e uniche.
Da giovane donna nel 2021, come ti avvicini alla tua professione?
Questa è una domanda molto interessante. Anche se ho iniziato a recitare in piccoli film quando ero molto giovane, mi ci è voluto molto tempo per vedermi come un'attrice. Penso che sia stato durante il mio secondo anno di studio di teatro, che ho iniziato a pensare che questa sarebbe stata la mia professione. Immagino che ho sempre voluto farlo, ma avevo paura. Mi emoziono con tutti gli alti e i bassi. Odio quando un progetto è finito e ti lasci alle spalle le persone con cui sei stata così vicina. Ho paura che un giorno le persone scoprano che non ho idea di cosa sto facendo la maggior parte del tempo. E anche essere una donna in questo mondo a volte è molto difficile. Ho avuto delle brutte esperienze ma ho imparato molto e ora sono molto più forte quando si tratta di stabilire i miei limiti. Quindi, è una lotta da prendere sul serio a volte, ma c'è qualcosa di così avvincente e affascinante in questa professione che non voglio fare nient'altro finché è possibile. Volevo studiare, perché volevo essere istruita ed essere anche in grado di essere sul palco. Ho finito i miei studi adesso e lavorerò in un teatro per i prossimi due anni. Farò di tutto per imparare cosa mi rende davvero felice e poi continuerò a concentrarmi su quello. La mia professione è molto importante per me, ma non è tutto nella vita. Non so cosa accadrà, ma per ora voglio lavorare sodo per ciò che amo fare e ciò che amo è recitare. Con tutte le cose belle e difficili.
Quale ruolo sogni di interpretare?
Onestamente, quello che amo di più è raccontare così tanti personaggi diversi. Mentre mi preparavo per Nene, ho girato un pilot per una serie in cui interpreto una prostituta chiamata Mandy, è stato divertente. Avevo unghie finte molto lunghe, indossavo tacchi alti e pensavo tra me e me: quanto è bello? Adesso sono Mandy, ma tra due mesi sarò una duchessa. Mi piace avere l'opportunità di interpretare tutti i tipi di personaggi. Ma ovviamente, il mio sogno è di avere un ruolo da protagonista entusiasmante, ad un certo punto, in futuro. Ma ogni volta che lavoro con persone che mi ispirano e con sceneggiature toccanti e pertinenti, sto già vivendo il mio sogno.
Chi sono le persone che maggiormente ti influenzano?
La mia famiglia, i miei amici e la passione delle persone con cui lavoro.
Se dovessi riassumere la parola "Arte" in un'immagine, quale sarebbe?
Uno specchio.